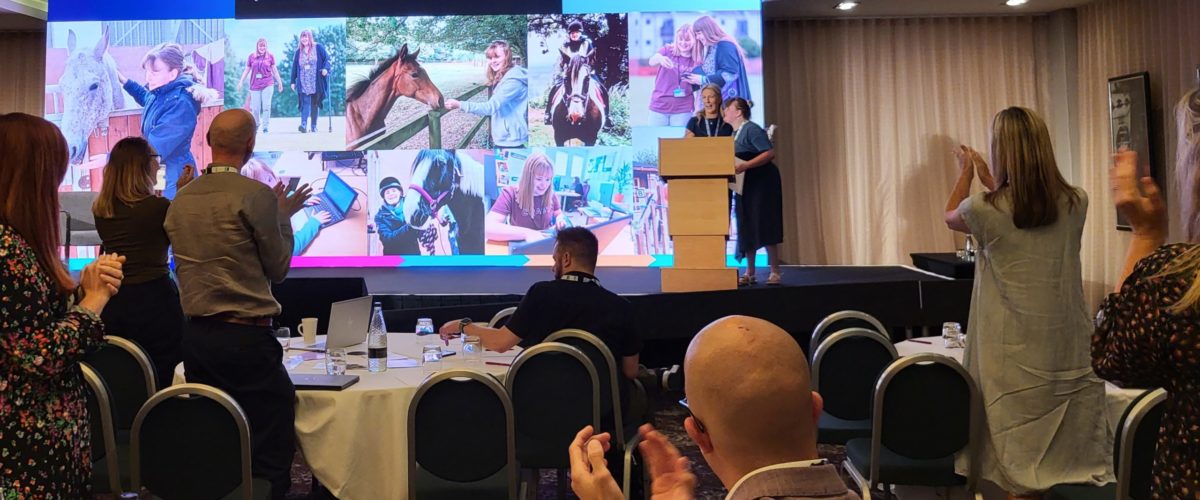 Get in touch!
Natspec Annual Conference 2023
What an incredible time we had at the Natspec Annual Conference in Stratford-upon-Avon last week! From workshop leaders to student speakers, find out about Homefield's time at the conference.
Our Principal Tracey teamed up with Andrew Smith from Derwen College to lead a dynamic workshop on Investing in Enterprises, whilst our Careers Lead Keleigh and Digital Communications Apprentice Finola joined forces with Paul Cook from Hereward College to deliver an insightful workshop on Employing Apprentices.
Alongside running workshops, Finola took centre stage as a keynote speaker, sharing her journey to date and how specialist provisions provided a lifeline in her recovery that has led her to be employed as our apprentice today. Her powerful speech earned a well-deserved standing ovation from the 300 delegates. Well done Finola!
Find out more about the workshops we ran and read Finola's powerful keynote speech below.
Investing in Enterprises: Things to Think About
Principal Tracey joined with Andrew from Derwen to lead an engaging workshop on Investing in Enterprises
Starting with the benefits of operating an enterprise, the group discussed how enterprises provide varied opportunities and a safe space to learn and make mistakes. It can develop interaction with the public and prepares them for the world of work.
They then moved on to consider the challenges, including opening times versus term times, tutors versus actual specialists, real life versus pace of students and managing customer expectations.
Finally, the group talked about considerations when setting up an enterprise. You should research, involve students and the community, invest in quality, plan how it will work on a day-to-day basis and get an expert on board. However, don't expect that it will make lots of money, underestimate the time and energy that it will take to set up and sustain, take away from the student experience to deal with demand or go beyond your capacity to deliver.
Some great ideas that came out of the workshop were:
Investing in a Cricut machine for card making
Making items to sell at the local Pride Festival
Awareness training packages designed and delivered by students themselves (e.g. Deaf Awareness, Autism Awareness) to be sold to organisations
Remember, enterprise is a huge area full of opportunities. It cannot be a pretend venture with no value or it is not worth it. It must be a real venture where students can take ownership.

Careers Lead Keleigh and Digital Communications Apprentice Finola collaborated with Paul from Hereward to present a valuable workshop on Employing Apprentices.
There are over 650 apprenticeship standards available ranging from Level 2 (GCSE) to Level 7 (Masters).
From an employer perspective, offering apprenticeships supports recruitment needs and can address skills gaps depending on the role. They give opportunities and motivate colleagues. However, they can also take a lot of line-manager time to train, support and provide a more hands-on approach than hiring a direct position.
For apprentices themselves, it gives them an opportunity to learn on the job, improve employability, get hands-on experience and gain mentoring and support structure from the workplace. However, when it comes to apprentices who have come from specialist provision, not all providers have an understanding of EHCPs and different learning needs, or reasonable adjustments that can be made. For example, if an apprentice has an EHCP they do not have to do Level 2 English & Maths if they are not able to achieve this, and the requirement lowers to Entry Level 3.
So what things do you need to consider?
Think whether you can fill your recruitment gap with an apprentice.​
What benefits it will bring over hiring a standard employee? Can you find the right apprenticeship to match the needs of the college? It can help teams that are struggling with capacity as well as giving someone an opportunity to learn on the job.​
Choose the right level of apprenticeship for your business needs.​
​If you are looking for entry level roles, then Levels 2 & 3 will be best suited (Level 2 being the most accessible). Think about what reasonable adjustments may be needed to make the apprenticeship accessible to specialist college leavers.​
Consider the salary you are willing to pay. ​
​We pay Homefield's Minimum Wage rather than apprenticeship national wage to support with wellbeing and financial stability. ​
From a curriculum perspective to get your students ready for apprenticeships:
What is the career progression route at your college?
Supported Internships, Traineeships, preparing for entering the workplace,
enterprises & work placements offered, qualifications to develop.
How can you best prepare your students for this type of course?
Consider the differences between specialist education and a more mainstream apprenticeship approach. Embed learning about reasonable adjustments.
How can you develop the soft skills needed for employment?
Build in expectations of what an apprenticeship provider would require – e.g., how to structure your study time, achieving deadlines, how to motivate self.

In addition to her workshop contribution, Finola was also a keynote speaker at the conference, sharing her inspiring journey and the impact of specialist provisions on her recovery and current position as our apprentice. Her moving speech was met with a standing ovation from the 300 delegates in attendance.
We wanted to share with you her powerful words, so you too can see the impact specialist education has.
"Hello! My name is Finola, and I have a history of experiencing severe mental health challenges, including; moderate social anxiety, and low moods, so I really am facing my fears by speaking to you all today!
I want everyone here to feel empowered by the knowledge, that YOUR SEN students can achieve massive goals, whatever their limitations. And hopefully, my story can support them in their journeys.
2017 was when my story started. I attended a mainstream school in Leicestershire, and gradually, over my three years there, I became incredibly stressed and spaced out during lessons. So much so, that eventually, teachers began to spot small decreases in my academic performance. At home, as I spent longer amounts of time in my bedroom, these behaviours worsened to constant 'please see me' red pen teacher comments and 'we don't want to be associated with you anymore' messages from friends.
Despite this, I felt no emotion, and lost all ability to concentrate – so I couldn't even get back on track. Little did I know, at 16, that these are some of the early warning signs of Psychosis; a debilitating mental health condition that causes regular delusions, hallucinations and disconnects you completely from reality.
One year after this, I struggled through my GCSEs at another mainstream school. As I was deemed as bright, nobody saw a reason to put me in alternative education then. But, with no pastoral or academic support given to me there, I scored shockingly bad fail grades, meaning I couldn't access any A Levels, and lost all hope. 'What was the point anymore?' I thought. I was 17 and felt extremely confused and scared. I had no idea of what the future held for me because it was like the grades on my 'Results Day' sheet of paper had completely defined me.
It was then that the breaking point hit, and I took a few years out of mainstream education to recover. My parents, sick with concern, began to look at other options for me – so that I wasn't just stuck in this downward spiral forever…. This is where Specialist Provisions were introduced and they provided a lifeline, though, at the time, I was resistant to attending there at all. It was my parents who insisted I give them a chance.
When I joined my first alternative education provider, U-Neek-Learning in Hinckley at 18, I was adamant that they couldn't help me, and I hated spending time outdoors and in classrooms again – as it triggered bad memories of feelings of neglect and pain while I was in mainstream education.
But with a lot of persuasion, I started doing an Equine Studies Online Course, which I eventually learnt to love and thrived at, whilst also having provision-funded weekly riding lessons at Lychgate Farm Riding School to help me learn a new skill and gain more confidence in myself again. So, funnily enough, 'Horses were what saved me in the end' is the phrase I often use when describing my recovery.
I say it because it rings true. Horses taught me that time is a powerful healer and change only happens when you choose it. Without them, I wouldn't have gone on to achieve my City & Guilds Horse Care & Riding Qualifications at New Leaf Triangle which then finally lead to marketing work experience that made me employed as an Apprentice today.
I originally went to Homefield College to do an equine-supported internship but realised that my health meant that I found working with horses too much. Homefield gave me the tools to make my 1 year as a student there my own, nothing was too far-fetched, and I was able to form connections with people that had very similar abilities and struggles to me. The flexibility and support from the staff and other peers were very nurturing – which is exactly what I needed at the time.
They pushed me outside of my comfort zone when I felt ready to be challenged more and went above & beyond to make sure I received personable pastoral care. This made a world of difference to my previously highly anxious, withdrawn state, and altered my outlook on life for the better!
I developed trust in professionals again through talking to Tutors and the Behaviour Team, resilience by problem-solving obstacles and challenges such as my health decline whilst on my Supported Internship, people skills through socialisation opportunities with peers in lessons, and re-found my creativity through completing my Level 1 Arts Award.
Over the last few years, I have been very lucky to have received strong amounts of guidance and help. Especially from Helen Gerrard, Homefield's Comms Lead – who believed in me every step of the way! From trusting me to work for her in my student days, to supporting me fully throughout my apprenticeship course now, I wouldn't be where I am now without her backing. So, thank you, Helen, I appreciate you more than you know!!
Thinking about the students that you champion, who do you impact the most? It's that student that values your support beyond words. This is your reminder that YOU DO make a difference!
So, that is my story. If anyone would like to hear more, please feel free to come and find me at the end of my workshop on 'Employing Apprentices' today, where I'll be discussing reasonable adjustments and my apprenticeship experience. Thank you for listening!"

Staff across the organisation made the most of the conference by connecting with other colleges and sharing best practices to enhance our work.
We discovered practical steps towards sustainability, reflected on effective self-assessment, learnt how other colleges value and collate student voice, and discussed designing a curriculum to enhance quality of life.
The event was a success for everyone involved, and we couldn't be prouder of our team's accomplishments!