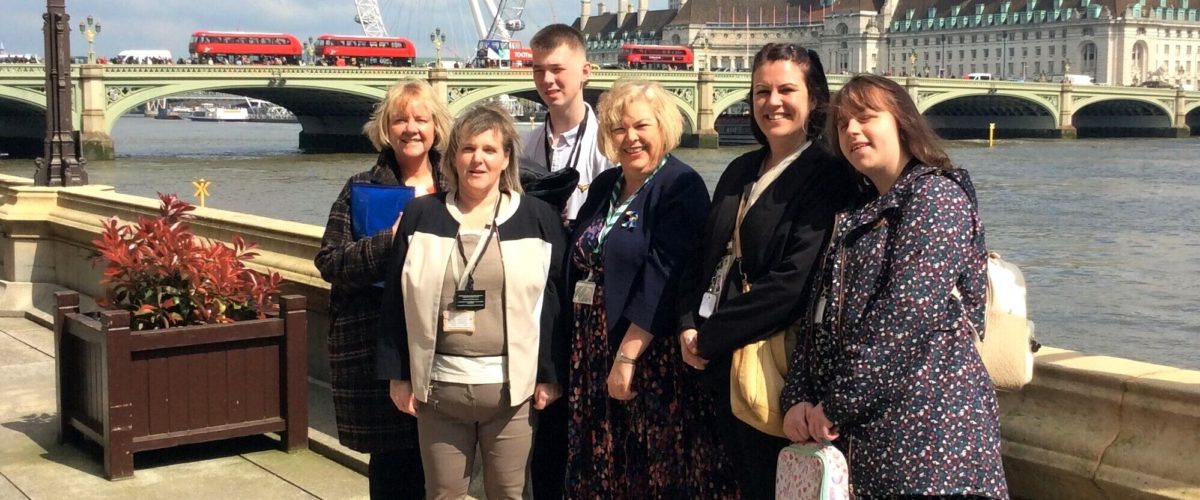 Get in touch!
Student Union Take Parliament By Storm!
On Wednesday 19th of April, Student Union representatives Harry and Savannah had the honour of visiting Parliament in London!
Accompanied by Principal Tracey and staff members Julie and Emma, the group attended the Parliamentary Annual Reception at the invitation of the Baroness Burt of Solihull on behalf of the Skills and Education Group. The group also met with our local MP Jane Hunt for an impromptu tour of Parliament, which all greatly enjoyed and Harry and Savvy were thrilled to be shown around by an MP.
They used the day to explore the various jobs the group saw around Parliament and London itself, seeing some of the key sights and using the tube to navigate around. Overall it was an excellent day, and both Harry and Savvy felt they would like to give being the Prime Minister a go!

On the train to London, research was done by students about the House of Lords. They both found out that the Lords is the 2nd Chamber of our Parliament, The House of Commons is the 1st chamber and the British public elect 650 members of Parliament and The House of Lords was formed in 1801!!
In addition, they needed to research the Baroness they were going to visit; Baroness Burt of Solihull. As a result, they found out she is a Liberal Democrat, which is one of the British political parties. She was an assistant governor at HM Prison Holloway and has campaigned in her local area to keep the library over and improve the ambulance service.

Savvy's recount of the day is as follows: "During the day Harry and I needed to see how many different jobs we could see, thinking about the different skills needed to do the job. We also needed to work on our personal targets; As we were going to a new and very busy place; London, we were careful to follow our safety awareness both of traffic and other hazards around us.
Using the maps we made our way from Kings Cross St Pancreas to Westminster underground station. Outside of the Houses of Parliament we bumped into the local MP for the college, Jane Hunt. Jane was very pleased to see us and offered to give us a tour of the different areas of The House. This was very nice to see all the different rooms and to go to places where normally we can't see. After our tour, we attended our reception and I tried some very interesting food; Harry wasn't very keen on it!"

Harry's view was very similar to Savvy's, in that he too enjoyed it, but unlike her, he found some parts of it daunting; "I did a lot of things for the first time on that trip. I stayed away from home without my family, which was not scary at all and I went to London for the first time. I must admit that I had no idea one place could have so many people. It was so busy and colourful. I liked going on the underground.
I had a really good day. I found the Houses of Parliament really interesting. This was my first time in London so I found it all very interesting. We did need to walk a long way to see Buckingham Palace. I met and learned who the college MP was, Jane Hunt. There was a lot of security at the Houses of Parliament because it was Prime Ministers question time."
We'd both like to say a massive thank you to the Baroness Burt of Solihull, the Skills and Education Group and Jane Hunt MP for such a nice day, generous hospitality and informative learning experience!